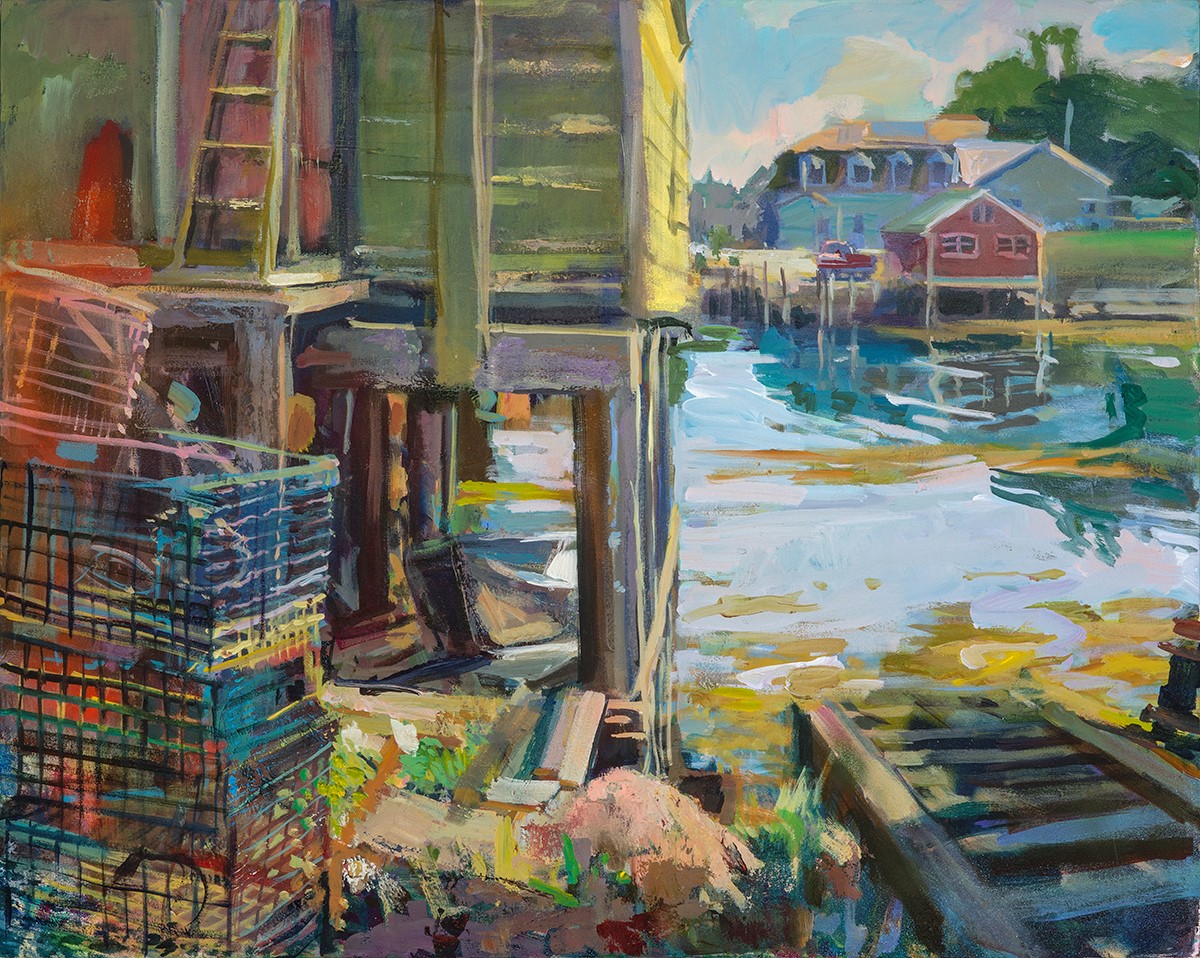 I'm pleased to present this interview with painter Grant Drumheller where he talks about his background, work, process and thoughts on painting. There will be a solo exhibition at the Prince Street Gallery in NYC December 1 – 29, 2016. The Prince Street Gallery exhibition catalog has an essay by the poet Charles Simic who states:
"…He is both deeply engaged with what's in front of him and well-versed in the history of art. Breughel's paintings with their multiple scenes taking place concurrently in the same painting come to mind, although Drumheller's is closer to French Impressionists in his use of color. I have in mind their landscapes and urban scenes veiled in mist and fog where some familiar sight is transformed by the weather and endowed with strangeness and mystery. Like the French, he wants to convey the mood such images evoke in the viewer as much as he wants to show what is out there. The drama of these paintings is how the chaos inherent in such crowd scenes and the unity required to fix the overall image in our minds battle one another and then come together. It's the vast visual repertoire at Drumheller's disposal that make this operation possible, from his cartoonist's knack of capturing with a few strokes the identity of someone in the crowd, to the many subtle and startling ways he employs color and the sheer joy and abandon with which he wields his brush that bring his paintings to life. It's like watching a juggling act in which the juggler keeps us in suspense by keeping in the air more balls than it seems possible, but however it's done, by magic or just plain hard work, what matters the most is that we can't stop looking." – Charles Simic
Drumheller is a professor at the University of New Hampshire where he has taught since 1986. He was a Visiting Artist at the American Academy in Rome in 2009. Drumheller has shown widely including one person shows at the Currier Museum of Art (Manchester, NH) the Creiger-Dane Gallery (Boston, MA), and the Grace Institute (New York, NY). His work is represented by the Greenhut Galleries, Portland, ME, the George Marshall Store Gallery, York Harbor, ME, and the Prince Street Gallery, New York, NY. He lives in New Castle, New Hampshire with his wife, Karina.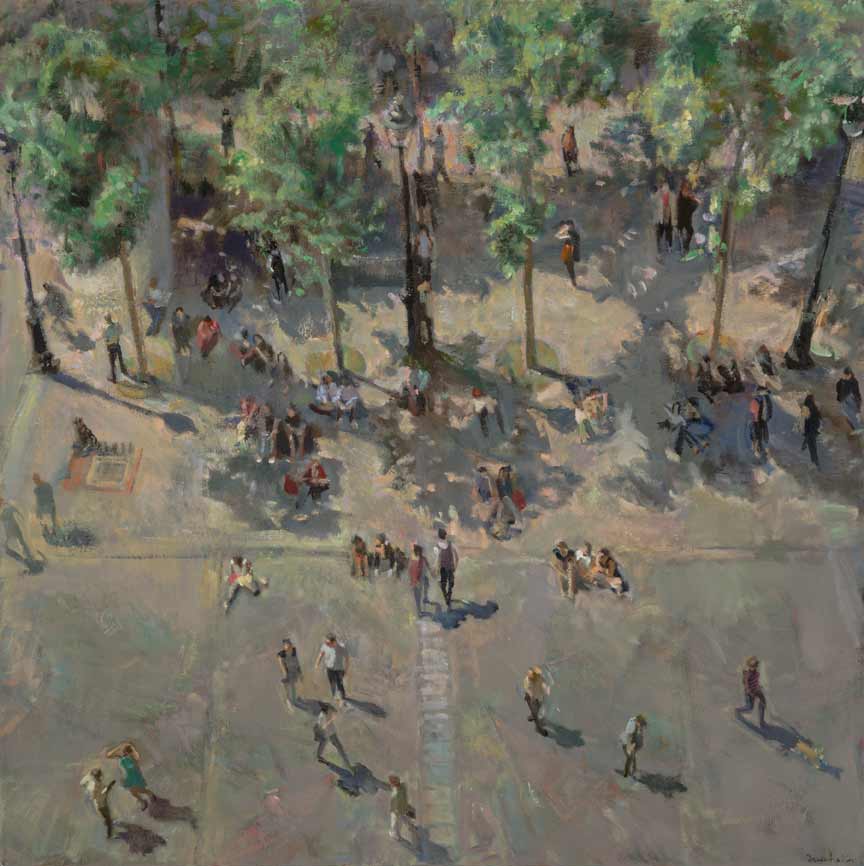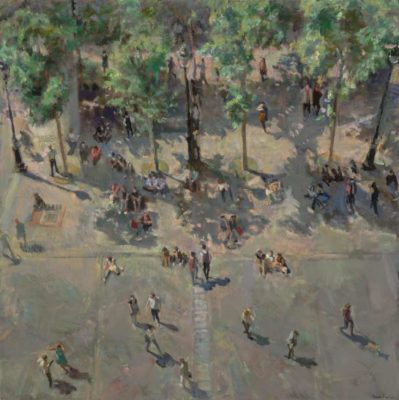 Larry Groff: What led you to decide to be a painter?
Grant Drumheller: I was the kid who was a good artist and ended up going to art classes as a youngster. I had a great art teacher in high school but it wasn't until I spent a year at NYU as a liberal arts student that I knew I had to be in art school- and transferred because someone said BU had a good art program. When you are 19 you follow advice, literally. I was challenged and worked very hard – a few of us would spend all weekend working on the projects. We'd camp in the studios. During my third year painting class I had what I could only call "a painting experience"- a moment of forgetting, complete immersion, of falling into the work. I liken it to what actors say, "God was there" when it feels like something moved through you. I was hooked then.
LG: The BU painting department is noted for its traditional approaches to drawing and painting in the undergraduate studies. Reed Kay was one of your professors and also Philip Guston and James Weeks. They were all very different painters but their combination must have been very inspiring. What can you tell us about what school was like for you back then?
GD: How fortunate I was to be a student there! I was made to draw 9 hours a week for four years- from life! In addition we drew in all the classes, with clay, or paint! We were not told we were trying to make art. That was going to come down the pike. I accepted that if anything worthwhile would come out of me, it might take more than 4 years of tuition and time. I admired and respected the students and the teachers were awesome artists. I learned the figure. Of the painters you mention, Reed is the only one who survives. I try to see him fairly regularly. He is one of the most articulate artists and thinkers- his stories are great and I like to hear his opinion about everything. When my daughter Tess- who he has known since infancy and followed her studies at Barnard- went into the wine business, I called to tell Reed. She was dealing a small vintage biodynamic portfolio and he didn't skip a beat…"Great! It's about QUALITY! Wonderful!" he exclaimed. He provides me with a lifescript- still teaching me.
LG: Reed Kay wrote a book back in 1965 The Painter's Companion I haven't read it but I'm curious if you know it and think it still useful?
GD: The book remains very useful- I use his recipes to this day for glue gesso and other things. You should know that I spent my first year of teaching replacing him for the Technical Painting course while he was on sabbatical. It was trial by fire. I had taught a few Beginning Drawing Courses around the area but this was a lecture and demonstration course. I remember I thought I could read his ring binder of personal outlines for the course. I quickly found out I had to write my lectures longhand beginning the Wednesday before for the following Monday class- and rehearse the demonstration of the techniques! Grinding oils, making pastels, all of it! I even introduced a portable fresco painting project to the curriculum so students could feel the experience of working on wet plaster- something new! I had my own assistant but even so, it took a lot of effort! I had been Reed's student, then assisted him as a graduate student in the class. Nevertheless, I needed my own level of preparation. When you teach you have to really learn it well, and for me it meant to learn it anew.
LG: Reed Kay must have had some interesting stories.
GD: Reed's stories are often about the past and I love listening to them. Recently, I had lunch with him and asked him about Edwin Dickinson. He recounted a few gems. When Dickinson came to BU to give a lecture, he didn't show slides or talk about his work, rather he spoke about the "custodianship of the palette". The Dean of the College had sat next to Reed and leaned over and whispered, "For $500, this is all we get?"
Reed recounted the time when they were teaching at Skowhegan, Reed would see Dickinson standing knee deep in the lake, scrubbing his socks. "No one has to wash MY laundry!" Dickinson would exclaim.
My favorite Dickinson story was from the same summer when he was being asked questions during an evening gathering. Someone in the audience was trying to goad him to comment about abstract painters on ascent in New York at the time. According to Reed, he didn't take the bait and said, rather, "Art is a great lady, and she can take care of herself". I thought that was beautiful.
LG: Please continue telling us about your experience at BU.
GD: The teachers there were from a very intellectual generation, and the combination of their dedication and all I had to learn and the MFA, Gardner and Fogg Museums made those student days quite intoxicating!
The graduate program operated completely separately. I had known Jim Weeks from classes and Guston was anticipated as a monthly occurrence. I was just expected to work. It was great because for the previous four years, I was pushed down, compressed- like a spring. I was ready to be released in my work! The first year was a struggle- I painted two frankly derivative paintings, but Guston was indulgent. "If you were doing this in 10 years, I'd be worried, but not at this point." Of course he spoke from experience, his early work having been influenced by Ben Shahn and Picasso- and I was young! You have to look like someone at the beginning, The following summer and year were filled with painting, with Guston egging me on. I really painted for him.